Technology has evolved over the years and will keep on changing. It will continue to dictate the way we do business generally because the whole world is now a global village. The time has come for businesses to constantly look into how to leverage technology and innovation as a competitive edge not only to keep ahead of the competition but also to prevent their businesses from extinction.
Today, technology is an integral part of our everyday life. Businesses that are strategic are more likely to use technology to make processes less cumbersome, lower the cost of production and make it easier for customers to access company products and services. The use of tracking devices to monitor the movement of shipments, RFID technology and warehouse robots to mention a few have had a tremendous impact on logistics operations and the new concepts like 3D printing, drones, Internet of things, blockchain technology and driverless vehicles promises to bring about increased efficiencies in logistics operations.
In the Nigerian Logistics space, technology can be used to create more value in spite of the myriad of problems faced by operators. We are all aware of the logistics challenges of bad roads, lack of access to fund to acquire fleet which is even more pronounced now because of the hike in the exchange rate, the high cost of spare parts to maintain the fleet and weak digital payment infrastructure etc. While acknowledging that these challenges exist, it is important to stress that technology can be the way out in overcoming some of these barriers.
The biggest opportunity in the logistics business all over the world in recent times is ecommerce which is technology-driven. According to eMarketer, an online publication, retail ecommerce sales all over the world will increase to $4.058 trillion in 2020.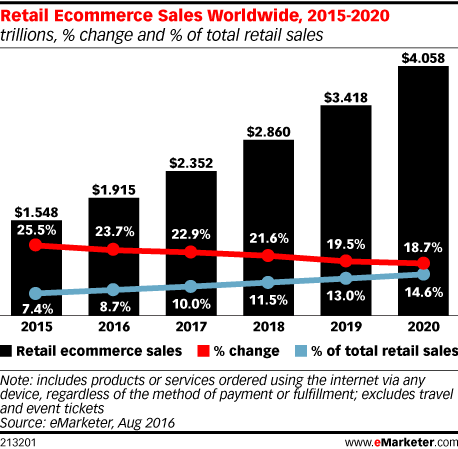 In 2014, the Nigerian Minister of Communications and Technology, Omobola Johnson stated that Nigeria's electric commerce market has a potential worth of $10 billion. Also according to Jumia`s third white paper on Nigeria mobile trend in 2017, Nigeria has 53% internet penetration rate (97.2 million users).
Bearing in mind that e-commerce is just a fragment of the opportunities that can be tapped into as far as logistics is concerned, because of this enormous potential we should be looking at how to find our ways around these logistics challenges rather than throw in the towel. Technology will play a strategic role in finding solutions to or surmounting these challenges.